The Viet Nam Festa in Kanagawa launched in Yokohama City of Kanagawa Prefecture, Japan on September 18, as part of efforts by the Japanese hosts to promote Vietnam's culture, arts, music, fashion and cuisine.
Activities in Kanagawa Prefecture had been one of the topics in high level talks between Viet Nam- Japan. Party General Secretary Nguyen Phu Trong spent a day in the Prefecture during his official visit to Japan. The visit marked a milestone in the relationship of the two countries. The leader vowed all possible support for Kanagawa to facilitate comprehensive and mutually-beneficial ties with Vietnamese localities.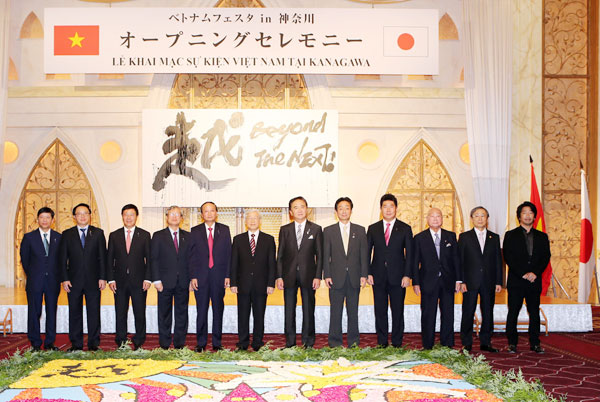 General Secretary Nguyen Phu Trong & Viet Nam Delegation and Kanagawa Prefecture's Leaders
At the opening the ceremony, Deputy Prime Minister and Foreign Minister Pham Binh Minh said: "The Viet Nam Festa in Kanagawa has attracted the participation of many Vietnam's localities, businesses and artists. We hope to introduce Viet Nam to our Japanese friends, its people and unique culture. We believe the event, with its many colorful cultural activities, will help foster mutual understanding and exchanges between the two nations and peoples, and consolidate Vietnamese-Japanese friendship."

Deputy Prime Minister and Foreign Minister Pham Binh Minh delivered his opening remark

Vietnamese Ambassador to Japan Nguyen Quoc Cuong highlighted the flourishing relations between Japan and Viet Nam and thanked the Kanagawa Prefecture for its invaluable assistance to organize this special event.

Ambassador Cuong said that the festival offered a good opportunity to learn more about Kanagawa, its land andpeople, and promote cross- cultural exchange with Vietnamese people. 

Ambassador Nguyen Quoc Cuong presented flowers to the event's Ambassador Goriki
Governor of Kanagawa Prefecture Kuroiwa Yuji, described the Viet Nam Festa in his prefecture as a significant contribution to recent fine developments of relations between Japan and Viet Nam. "Over the past years, the two countries have enjoyed a major progress in bilateral relations and are closely working to enhance the extensive strategic partnership by paying a series of high-level visits and exchange of friendship programs by business circles and non-governmental organisations," Governor Kuroiwa Yuji said.
Currently, Kanagawa Prefecture has around 14 million people, and is also home to Vietnamese students. The Viet Nam Festa in Kanagawa was expected to help the people of Viet Nam and Japan become closer. Festival goers had the chance to enjoy many cultural performances, art, music, and cuisine of Viet Nam. The event has impressed both Japanese people as well as Vietnamese living in Kanagawa and Japan.
As many as 100 pavilions introducing culinary arts, handicrafts, and specialities from Vietnam's localities and businesses 
The event has attracted 400 thousand visitors and over 100 booths. Of those booths, more than half offered traditional Viet Nam cuisine such as pho (noodle soup), banh mi sandwiches, Vietnamese-style skewered chicken, mango and curry, to be washed down with popular Vietnamese beers such as Saigon and 333.
Water puppetry-  an unique traditional art in Vietnam attractive to festival goers
The festival attracted more than 400,000 people 
There also had performances of both traditional and contemporary music, including Viet Nam's unique traditional art water puppetry, Viet Nam's band MTV, Japan's band Gypsy Qeen and other famous artists.