The official visit to Japan by Prime Minister Pham Minh Chinh was a success with comprehensive and specific outcomes of strategic importance, leaving a deep imprint on the Vietnam-Japan extensive strategic partnership, said Foreign Minister Bui Thanh Son. 
Prime Minister Pham Minh Chinh held a number of talks and meetings with high-ranking politicians and business executives of Japan during his official visit to Tokyo from Nov. 22 – 25 to promote the extensive strategic partnership between the two countries.
Speaking to the media on the results of the Prime Minister's visit, Mr. Son said the visit was significant in three ways. It helped deepen Vietnam's partnership with Japan by promoting cooperation in several areas; vividly reflected Vietnam's external policy of independence, self-reliance, multilateralization, diversification, peace, friendship, cooperation, and development; and affirmed Vietnam's role as a trustworthy friend and an active and responsible member of the international community.
Minister Son said that during the visit, the two sides specified major orientations and measures to deepen their already close and extensive relationship.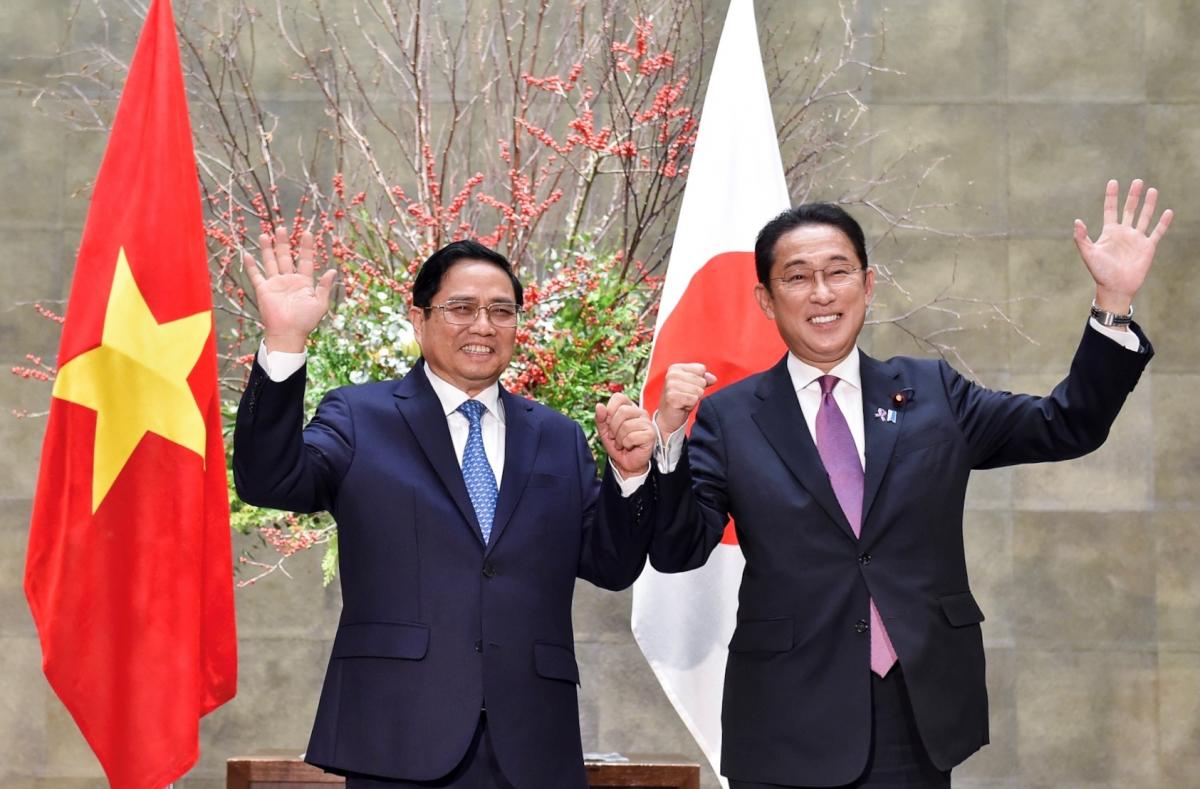 This is Mr. Chinh's first official visit to Japan since he became Prime Minister and he is the first foreign guest hosted by the Japanese Prime Minister. The visit takes place at a moment when Japan has eased its COVID-19 preventive measures and resumed its socio-economic activities. It's a time for both countries to expand cooperation in economics, trade, and human resources.
Relations develop rapidly
Vietnam and Japan established diplomatic ties on September 21, 1973, and upgraded their ties to an extensive strategic partnership for peace and prosperity in Asia in 2014. 
In recent years, the bilateral relationship has developed rapidly to the best stage since the establishment of relations. 
Vietnamese Ambassador to Japan Vu Hong Nam said: "Bilateral relations in recent years, particularly in the 2 years of the COVID-19 pandemic, have continued to improve. In 2019 Prime Minister Nguyen Xuan Phuc visited Japan. Prime Minister Suga Yoshihide visited Vietnam in 2020. Now the Vietnamese Prime Minister is the first guest of Prime Minister Kishida Fumio. Investment has increased as businesses have sought resources in Vietnam. Trade has increased, and so have security and defense ties, with many Japanese vessels visiting Vietnam. A growing number of Vietnamese apprentices have come to Japan and are a reliable human resource for Japan."
Vietnam and Japan organize regular exchanges in a spirit of sincerity, friendship, trust, frankness, practicality, and efficiency in key areas like economics, healthcare, COVID-19 vaccines and treatment, and security and defense, and cooperate at multilateral forums on global issues of mutual concern.
Multilateral cooperation is enhanced
When the COVID-19 pandemic broke out in early 2020, Vietnam and Japan suspended some diplomatic activities. Labor and tourism cooperation were seriously affected. But both countries have maintained high-level exchanges via alternate methods. The Japanese government gave Vietnam 35 million USD to improve its medical capacity and 4.1 million doses of AstraZeneca vaccine. Vietnam gave Japan 1.2 million medical masks and 20,000 fabric masks.
Now Japan is easing its pandemic preventive measures and resuming its socio-economic activities. Prime Minister Chinh's visit to Japan will create momentum toward the 50thanniversary of diplomatic ties in 2023 and open a new wave of comprehensive development between Vietnam and Japan.
"Mr. Chinh is the first foreign guest of Prime Minister Kishida Fumio. Prime Minister Chinh's visit to Japan is his second foreign trip after his attendance at COP26. The two Prime Ministers wanted to meet to forge a personal relationship. The Japanese have a saying "out of sight, out of mind". If we don't meet each other, there will not be a close relationship. The two Prime Ministers met at COP26 and this visit is an opportunity for deeper talks," Nam said.
PM Chinh's visit confirms the Vietnamese government's commitment to being a reliable destination for Japanese businesses to find resources, and fosters the determination to overcome the pandemic. 
Vietnam affirms its readiness to work with Japan to open effective development in all fields, especially in economics. Vietnam has always been a close, reliable friend and partner of Japan, supported Japan in promoting its regional and global position, and worked with Japan to promote peace, stability, cooperation and development.