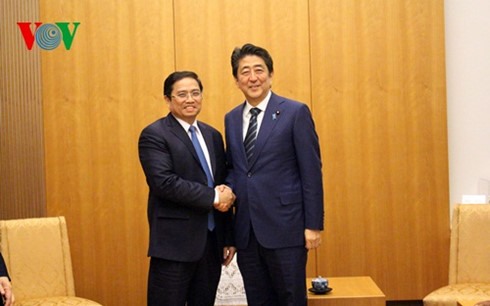 CPV Central Committee's Organisation Commission Phạm Minh Chính (L) meets Japanese Prime Minister Shinzo Abe in Tokyo.


Japanese Prime Minister Shinzo Abe said  that he wants stronger cooperation between his country's Liberal Democratic Party and the Communist Party of Việt Nam (CPV).
Meeting with the head of the CPV Central Committee's Organisation Commission, Phạm Minh Chính, in Tokyo, Abe expressed his delight at the growth of the two countries' relations, stressing that their increasing political trust is a solid foundation for effective co-operation and will bring about practical interests for the two peoples.
Japan would keep its high attention and priority on the comprehensive strategic partnership with Việt Nam, he said, noting that he will direct Japan's authorised agencies to actively assist Việt Nam in training officials. He added that his country is ready to co-operate with and help the Southeast Asian nation to build high-quality infrastructure.
He voiced his hope for the best possible conditions for a visit to Việt Nam by the Japanese Emperor and Queen next spring. For his part, Chính, who is a Politburo member, also rejoiced at the thriving extensive strategic partnership between the countries. He highly valued their collaboration in all spheres, particularly investment, trade and manpower training. He thanked the Japanese Government for effectively assisting the CPV in personnel training and asked it to continue assistance in human resources training, administrative reform, and building a lean and effective State apparatus. He congratulated Japan's attainments in 2016 and wished it a more important role in Asia-Pacific and around the world.
Chính also had a meeting with Japanese Foreign Minister Fumio Kishida.
Japanese parliament leaders pledge to tighten cooperation with Vietnam
 President of the Japanese House of Councillors Date Chiuichi and President of the House of Representatives Oshima Tadamori have said they will work to increase the cooperation with Vietnam's parliament during their meetings with a Vietnamese senior Party official.
The two Japanese parliamentary leaders made the promise during their receptions for Politburo member of the Communist Party of Vietnam Pham Minh Chinh, who is also Chairman of the Vietnam-Japan Friendship Parliamentarians' Group and in Japan for a working visit from December 1-2.
The Japanese side hailed Vietnam's efforts to reform administrative procedures, build a law-governed State and refine policies to attract foreign investors, including those from Japan.
They also promised to support the Japanese government's projects on cooperation with Vietnam across the fields, particularly in personnel training and administrative reform.
The hosts wished that both sides will further increase exchanges between the two legislatures and parliamentarians.
During the meetings, Chinh, who is also Head of the Vietnamese Party Central Committee's Organisation Commission, affirmed that the Vietnam-Japan strategic partnership plays an increasingly important role to regional and global peace, stability, cooperation and development amid rapid and complicated developments in the region and the world.
He wished that the leaders of the Japanese parliament will continue making positive contributions to pushing forward practical and effective bilateral ties across the fields of politics, economy, national defence-security, culture, education - training, and science-technology.
The Vietnamese guest appealed for Japan's support in administrative reform, building an effective State apparatus and training of strategic officials and leaders at all levels.
Chinh also had a meeting with Secretary General of the Liberal Democratic Party and President of the Japan-Vietnam Friendship Parliamentary Alliance Nikai Toshihiro, during which the two sides promised to do their best to contribute to comprehensive ties between the two countries and legislatures.
While in Tokyo, the Vietnamese delegation also met several senior Government officials; the President of the Japan International Cooperation Agency and the Chairman of the Japanese Communist Party.
Osaka called to further cooperation with Vietnam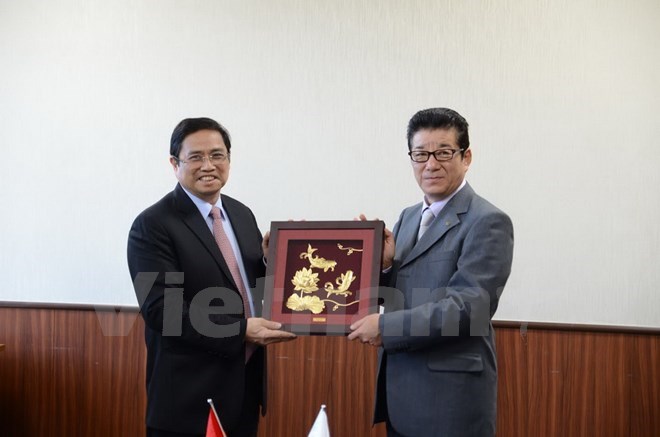 Secretary of the Party Central Committee Pham Minh Chinh (L) and Osaka's Governor Ichiro Matsui 
At meetings with Osaka's Governor Ichiro Matsui and President of the Osaka Prefectural  People's Council Imai Otaka on November 29 as part of his ongoing working visit to Japan, the Vietnamese official proposed stronger links between the Japanese locality and Vietnam in social security, especially in the latter's disadvantaged and remote areas. 
Chinh, who is also Head of the Party Central Committee's Organisation Commission, appreciated recent fruitful cooperation between Japan and Vietnam, expressing his hope that Japan and Osaka will continue working closely and effectively with Vietnam in the time ahead. 
He briefed the hosts on Vietnam's socio-economic development and administrative reform, and thanked Osaka's authorities for their support and assistance  to facilitate overseas Vietnamese living and working in the locality. 
He said he hopes the Japanese locality's leaders will exert effort to further foster people-to-people exchange with Vietnamese localities and help train Vietnamese civil servants in authority management.
Osaka's leaders highlighted effective cooperation in all fields between the prefecture and Vietnam in recent time, especially the exchange of visits, links in investment, trade and tourism, education-training. 
They said Osaka and Vietnam boast great potential to foster cooperation in economy, investment, trade and tourism, asking the two sides to pay special attention to further pushing links in these fields in the future. 
During his stay in Osaka, Chinh had working sessions with representatives from the Asia Pacific Institute of Research and the Japan-Vietnam Friendship Association in Kansai region, the Japan External Trade Organisation in Osaka, and the Osaka Chamber of Commerce and Industry. He also met with representatives of the Vietnamese Consulate General and the Vietnamese community in Osaka. 
Quick contact
Address: Tokyo, 151-0062, Shibuya-ku, Motoyoyogi-cho, 50-11
Telephone Number: (813) 3466-3311; 3466-3313; 3466-3314.
Emergency line for Vietnamese citizens: +8180-9661-5656
- Fax: +8133466-3312
- Email:
vietnamembassy-japan@vnembassy.jp (General information)
vnconsular@vnembassy.jp (Consular Affairs)