Secretary of the Ho Chi Minh City Party Committee Nguyen Thien Nhan has urged Vietnamese expats in Japan to continue uphold their role as bridges, contributing to helping Vietnamese enterprises promote exports.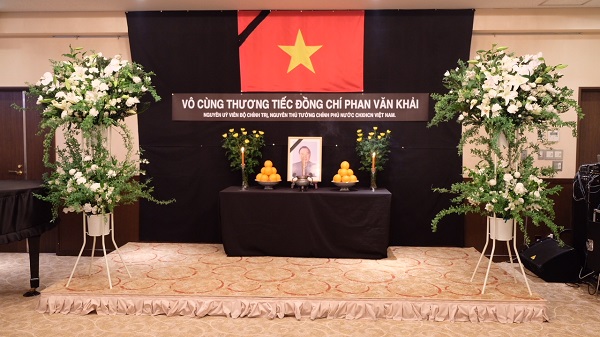 Secretary of the Ho Chi Minh City Party Committee Nguyen Thien Nhan (L) speaks at the meeting
During a meeting with the Vietnamese community in Japan as part of his working visit to Japan from March 18-25, Nhan updated participants on recent achievements of Ho Chi Minh City, and highlighted its dynamic development. 

Japan is one of the two biggest investors in Vietnam, he said, adding that Ho Chi Minh City is currently the most attractive destination for Japanese investors in all fields. 

The southern hub is calling for investments in 127 key projects, including those in building smart hospitals, developing high technologies and infrastructure, and flood prevention, he said.  

He affirmed his current visit to Japan aims to learn from Japan's experience as well as collect opinions from Japanese experts and economists, and those from Vietnamese businesses in Japan, towards mapping out development strategies and orientations for Ho Chi Minh City in the coming time. 

Speaking in the event, Vietnamese Ambassador to Japan Nguyen Quoc Cuong reported the development of the Vietnamese community in Japan, saying that the number of overseas Vietnamese (OVs) in Japan increased to nearly 250,000, 2.5 times higher than three years ago. 

Many Vietnamese people achieved prominent achievements in the field of invention and innovation, thus contributing to the homeland's development as well as the relations between the two countries, he noted. 

At the meeting, OVs shared experience in simplifying investment procedures, thus facilitating Japanese firms' operation in Vietnam. 

Representatives from young Vietnamese entrepreneurs in Japan said if Vietnamese firms want to succeed in the Japanese market, they need to consult, learn and apply Japan's professional working style. 

Nhan is scheduled to meet with Prime Minister Shinzo Abe and other officials of the Japanese Government; have working sessions with representatives from the Japan International Cooperation Agency (JICA), Tokyo and Tsukuba universities, and organisations and enterprises working in the high-tech field.
Quick contact
Address: Tokyo, 151-0062, Shibuya-ku, Motoyoyogi-cho, 50-11
Telephone Number: (813) 3466-3311; 3466-3313; 3466-3314.
Emergency line for Vietnamese citizens: +8180-9661-5656
- Fax: +8133466-3312
- Email:
vietnamembassy-japan@vnembassy.jp (General information)
vnconsular@vnembassy.jp (Consular Affairs)