The establishment aimed to further increase the friendly and cooperative relations between Japan's Hokuriku region and Japan with Vietnam through economic, trade, investment activities as well as cooperation in science, technology, culture, education and training of human resources.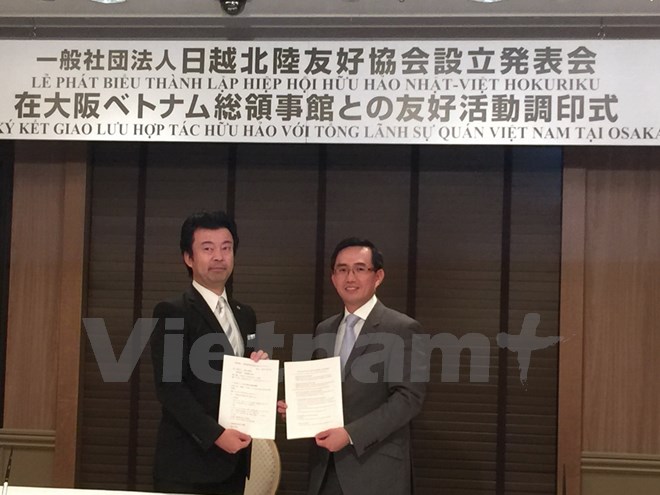 President of the Japan – Vietnam Friendship Association in Japan's Hokuriku region Matsumura Yoshiaki and Vietnamese Consulate General in Osaka Tran Duc Binh. (Photo: Vietnam+)
Participants in the association are politicians, scholars and local residents, and regional enterprises seeking investment opportunities in Vietnam.
Speaking at the association's inauguration, Ambassador Nguyen Quoc Cuong affirmed that the Vietnamese Embassy in Japan and Vietnamese Consulate General in Osaka would generate active support and cooperation with the association, expressing his belief that the association would significantly contribute to the development of the friendship and economic cooperation between the Hokuriku region and Vietnamese localities in particular and both countries in general.
During the ceremony, Sakurai Morio, Toyama prefecture's Oyabe city Mayor, a member of the association, informed that a 15-member delegation, including many agricultural students, would pay a working visit to Vietnam's Thanh Hoa province in mid-November, starting a chain of practical activities of the association in Vietnam in the future.
Hokuriku region which belongs to Japan's northwest includes Toyama, Ishikawa and Fukui prefectures. The region has strong development in manufacturing industry, agricultural production, especially rice and herbal products./.