The official visit to Japan (from September 15-18, 2015) by Party General Secretary Nguyen Phu Trong made at the invitation of Japanese Prime Minister Shinzo Abe created a new vision for the strategic partnership between the two countries for peace and prosperity in Asia.
During his four day stay, Party General Secretary Nguyen Phu Trong held talks with Abe, had meetings with Emperor Akihito, President of the House of Councilors Masaaki Yamazaki and Speaker of Japan's House of Representatives Tadamori Oshima, and received Foreign Minister Fumio Kishida.
He also met with representatives from all walks of life and the business community, as well as leaders of Japan's major political parties and major economic groups, and visited Kanagawa prefecture.
During the talks and meetings, the two sides affirmed they will treasure bilateral relations, pledging to work together to promote the strategic partnership comprehensively and intensively.
They agreed to strengthen cooperation and promote sustainable linkages between the two economies with the focus on connectivity in development strategy, production capacity and human resources.
Both countries were unanimous in expanding collaboration in culture, people-to-people exchange, education-training, science-technology and defence security, as well as continuing close coordination at regional and international forums.
On this occasion, the two sides adopted a statement on a joint vision for Vietnam-Japan relations, which specifies major orientations and cooperation measures to strongly and comprehensively boost the bilateral ties in the future.
Ten cooperation agreements were also signed during the Party leader's visit.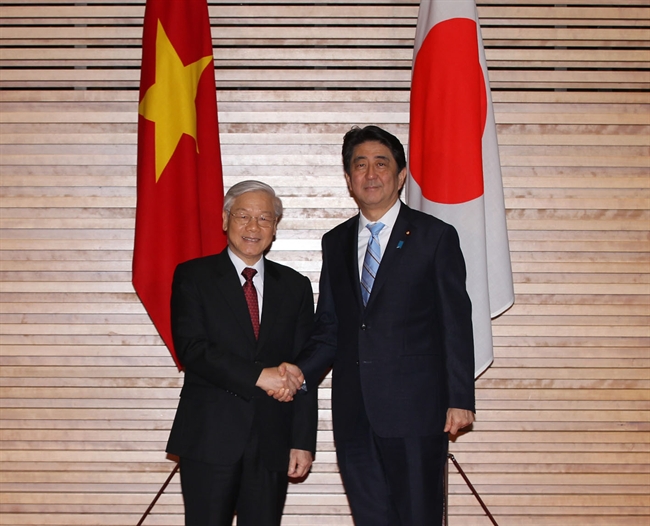 Japanese Prime Minister Shinzo Abe received Party General Secretary Nguyen Phu Trong. Photo: Tri Dung/VNA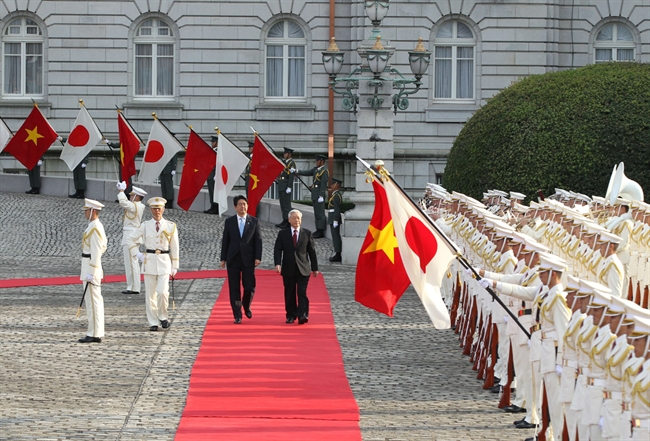 The official welcoming ceremony for Party General Secretary Nguyen Phu Trong was held solemnly at the Akasaka Palace, Tokyo. Photo: Tri Dung/VNA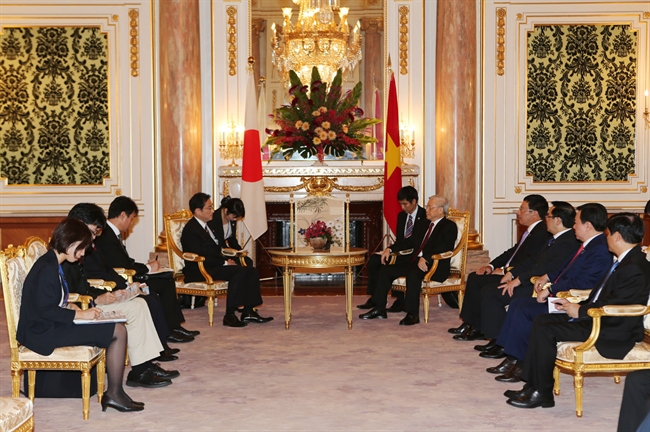 Party General Secretary Nguyen Phu Trong received Foreign Minister Fumio Kishida. Photo: Tri Dung/VNA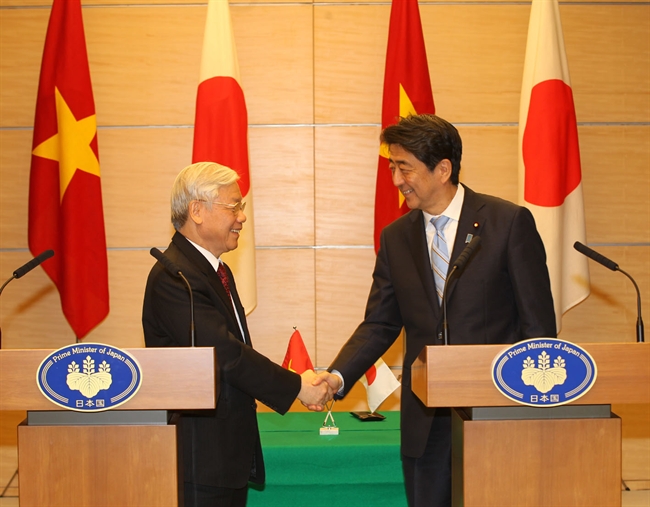 The two leaders attended a press conference. Photo: Tri Dung/VNA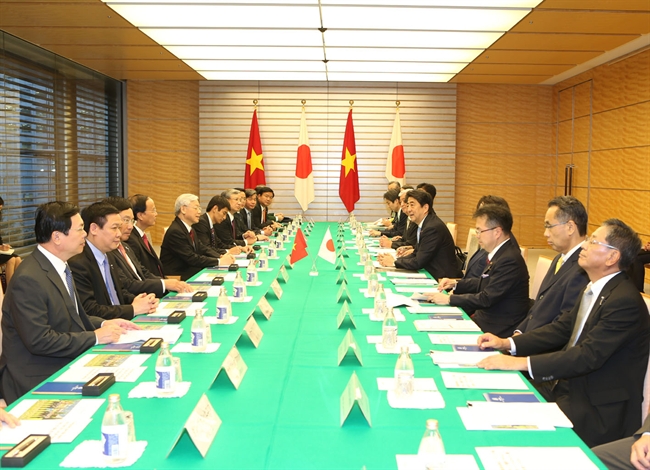 Party General Secretary Nguyen Phu Trong talked with Prime Minister Shinzo Abe. Photo: Tri Dung/VNA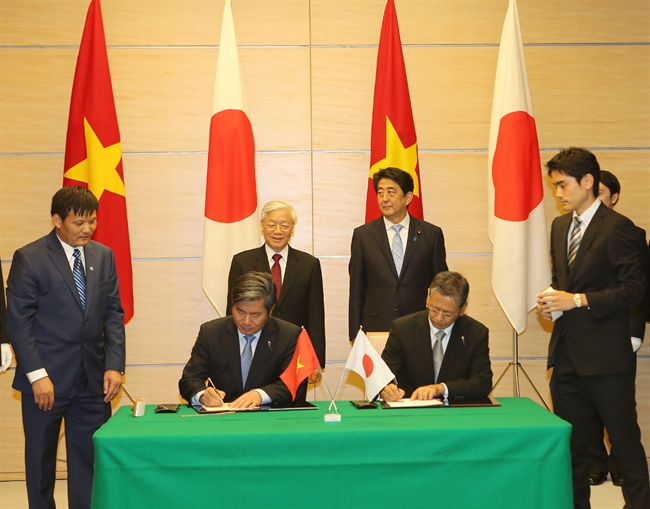 Party General Secretary Nguyen Phu Trong and Prime Minister Shinzo Abe witnessed the signing ceremony of cooperation documents between the two countries. Photo: Tri Dung/VNA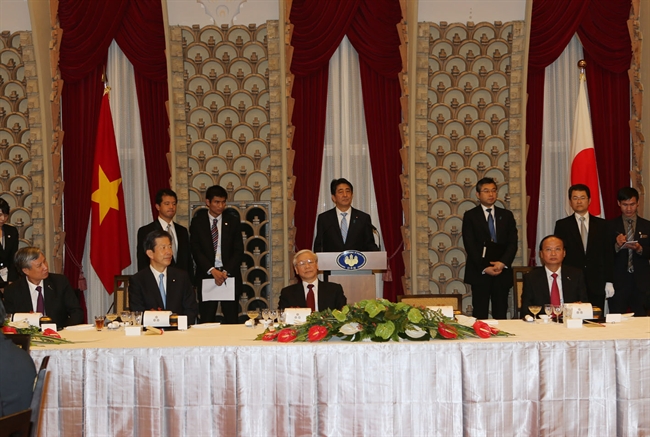 Party General Secretary Nguyen Phu Trong participated in a banquet of Prime Minister Shinzo Abe. Photo: Tri Dung/VNA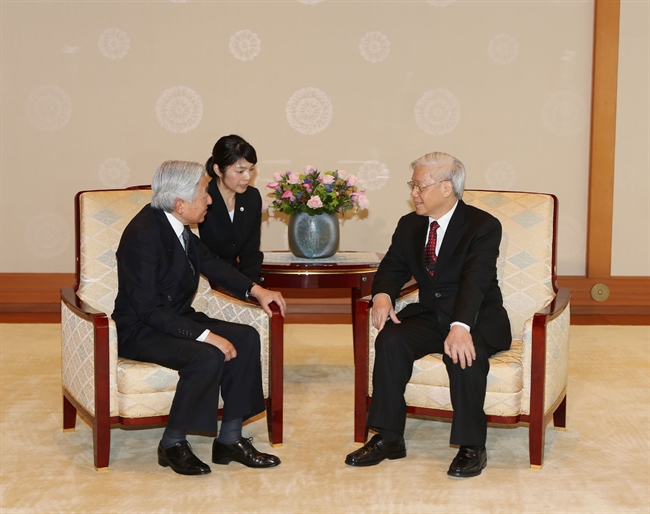 Party General Secretary Nguyen Phu Trong met with Japanese Emperor Akihito. Photo: Tri Dung/VNA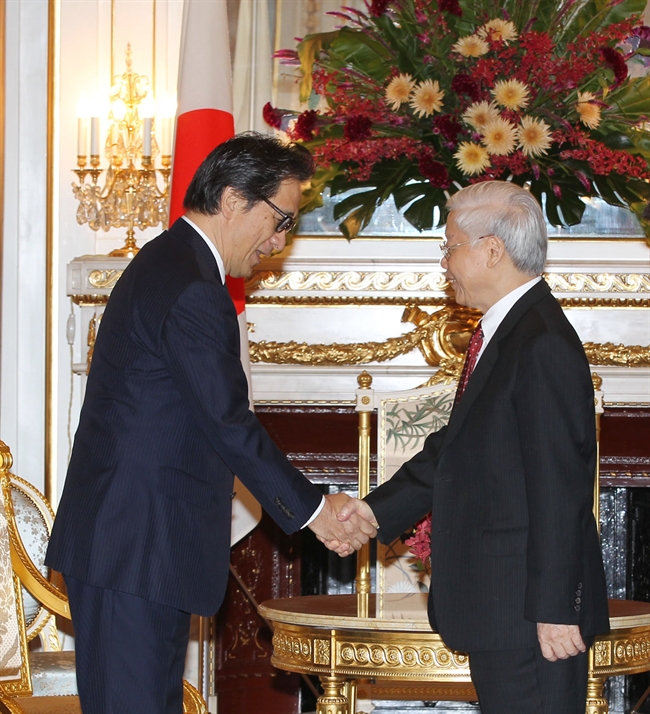 Party General Secretary received President of the Japan External Trade Organisation (JETRO) Ishige Hiroyuki. Photo: Tri Dung/VNA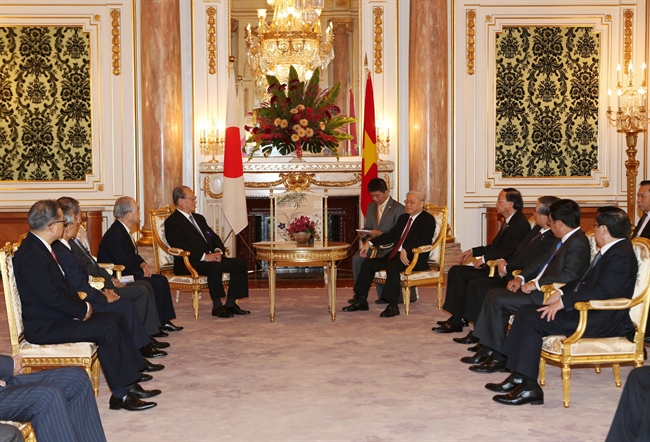 Party General Secretary Nguyen Phu Trong received Japanese President of the International Friendship Exchange Council (FEC) Ken Matsuzawa. Photo: Tri Dung/VNA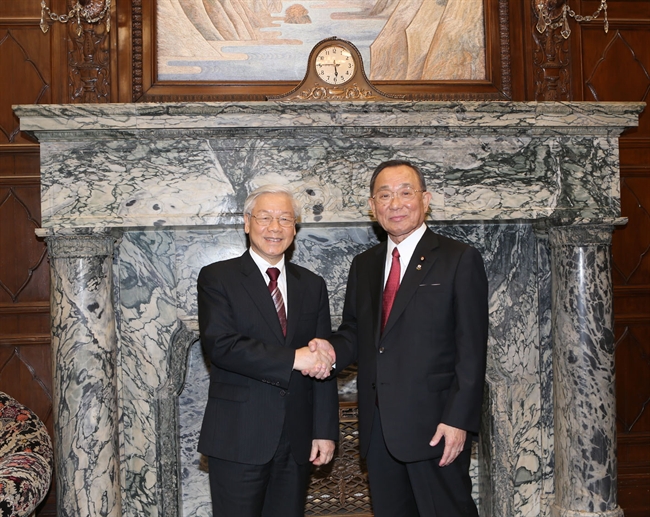 Party General Secretary Nguyen Phu Trong had talks with President of the House of Councilors Masaaki Yamazaki. Photo: Tri Dung/VNA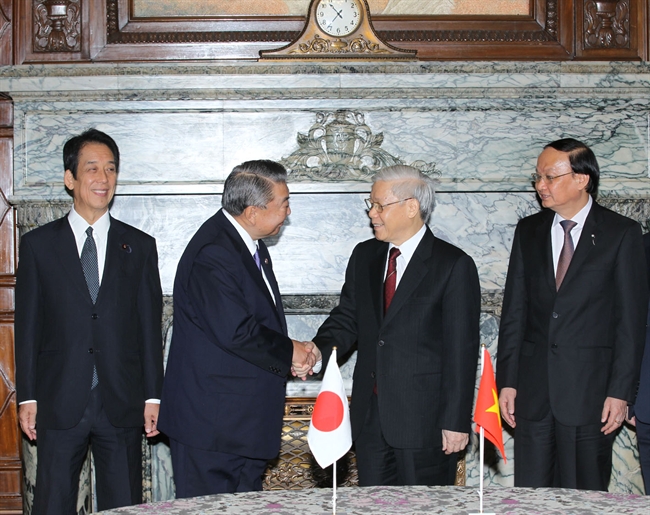 Party General Secretary Nguyen Phu Trong had talks with Speaker of Japan's House of Representatives Tadamori Oshima. Photo: Tri Dung/VNA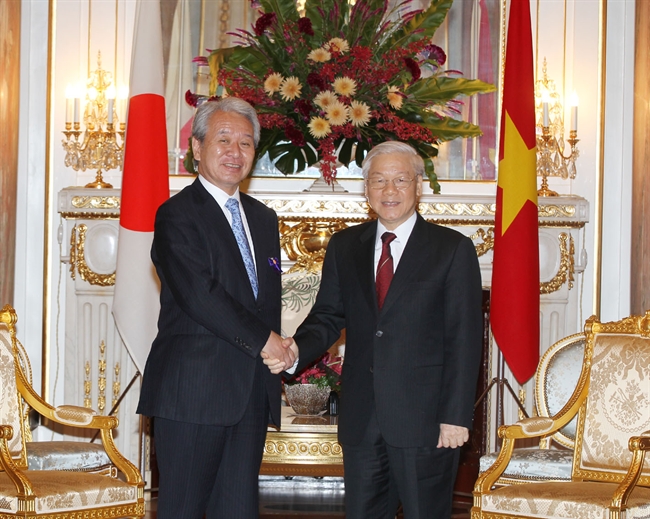 Party General Secretary Nguyen Phu Trong met with President of the Japan International Cooperation Agency (JICA) Akihiko Tanaka. Photo: Tri Dung/VNA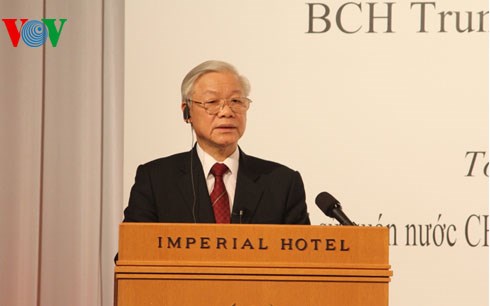 Party General Secretary Nguyen Phu Trong at the meeting with Japanese social representatives in Tokyo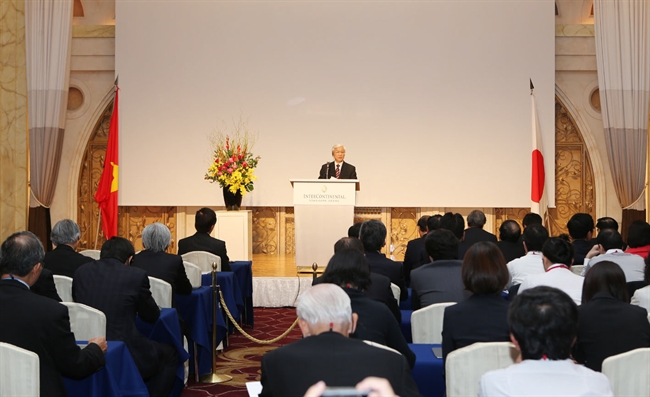 Party General Secretary Nguyen Phu Trong attended the Vietnam-Japan Investment, Trade, Labour Cooperation Forum in Kanagawa Province. Photo: Tri Dung/VNA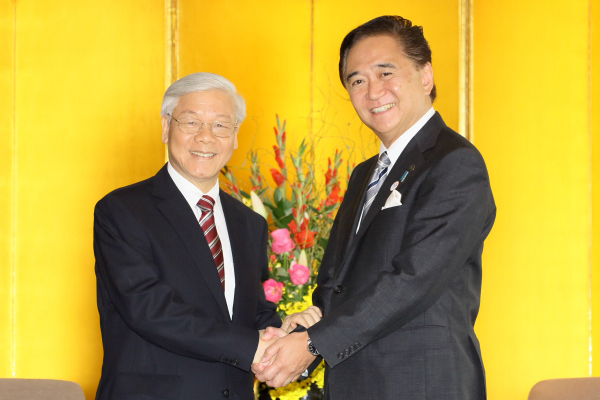 Party General Secretary Nguyen Phu Trong met with Kanagawa Governor Kuroiwa Yuji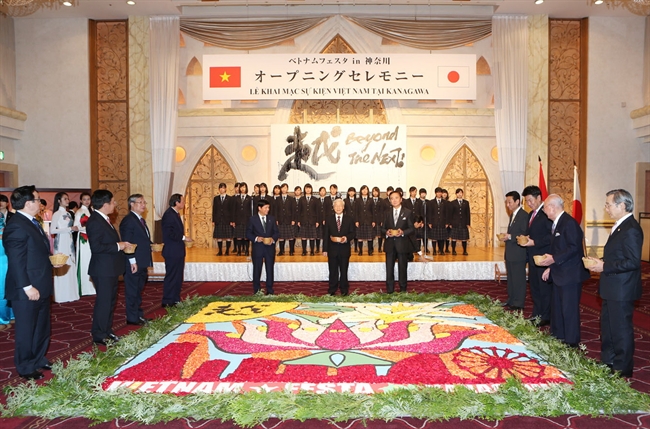 Party General Secretary Nguyen Phu Trong attended the opening ceremony of an event held in Kanagawa Province. Photo: Tri Dung/VNA