Ambassador Vu Hong Nam welcomed the Japan Philanthropic Association 
On 11 November 2020, Ambassador Vu Hong Nam received the Japan Philanthropic Association Representatives Aoki Takashi and Niwa Ichiro to present gifts to support people in Central region of Viet Nam who had difficulty due to the impact of the recent storms and floods.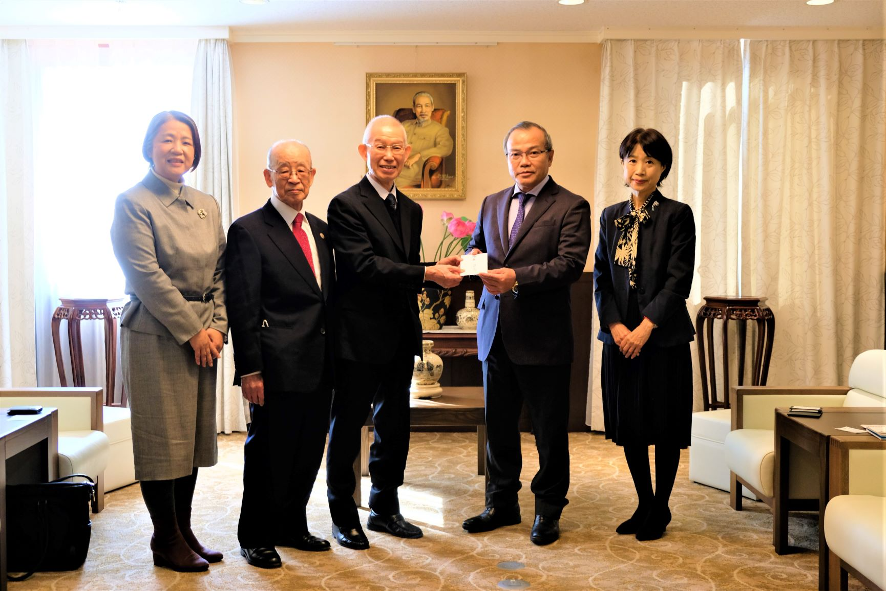 (Photo: Ambassador Vu Hong Nam and Representative of Ethics Association)
At the meeting, Ambassador Vu Hong Nam expressed his gratitude to the Japan Philanthropic Association; highly valued the Association's activities to promote people-to-people contacts between Viet Nam and Japan in recent years.
The Association's donation will be delivered to Phong Chuong Primary School, Phong Dien district, Thua Thien-Hue province.
Phong Chuong Primary was established and built in 1993 with 23 classrooms and 565 students. The recent flood has seriously affected the school's facilities and classrooms. The grant will be used by the school to assist in repairing the nursery house and concreting the school entrance for the students.
Quick contact
Address: Tokyo, 151-0062, Shibuya-ku, Motoyoyogi-cho, 50-11
Telephone Number: (813) 3466-3311; 3466-3313; 3466-3314.
Emergency line for Vietnamese citizens: +8180-9661-5656
- Fax: +8133466-3312
- Email:
vietnamembassy-japan@vnembassy.jp (General information)
vnconsular@vnembassy.jp (Consular Affairs)