50 yrs of Vietnam, Japan diplomacy (Pt. 2): From festivals to school trips, exchange grows
October 6, 2023 (Mainichi Japan)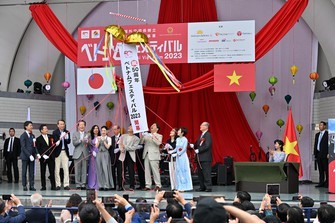 Japan's Princess Kako, right, claps at the opening ceremony of the Vietnam Festival 2023 in Tokyo's Shibuya Ward on June 3, 2023. (Mainichi/Kaho Kitayama)
TOKYO -- September marked the 50th anniversary of the establishment of diplomatic ties between Vietnam and Japan. The Mainichi Shimbun looked into the deepening exchange of people and culture between these countries.
Festival showcases culture and food
Events celebrating diplomatic ties with Vietnam are being held across Japan this year. The Vietnam Festival 2023, which introduced the country's culture and cuisine, was held at four locations and attracted crowds of Vietnamese people and Vietnam lovers. The festival was supported by organizations including the foreign affairs ministries of both countries.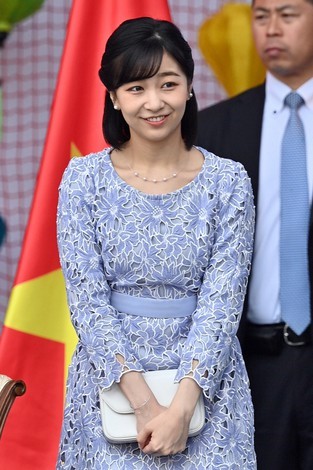 Japan's Princess Kako attends the opening ceremony of the Vietnam Festival 2023 in Tokyo's Shibuya Ward on June 3, 2023. (Mainichi/Kaho Kitayama)
In April, the festival was held in Tokyo's Toshima Ward and Fukuoka's Chuo Ward. Then in June, it was staged in Tokyo's Shibuya Ward and Osaka's Chuo Ward. A total of 270 Vietnamese food stalls and merchandise shops joined the events. Pho rice noodles and banh mi sandwiches were extremely popular.
On June 3, Japan's Princess Kako, the second daughter of Crown Prince Akishino (Fumihito) and Crown Princess Kiko, attended the opening ceremony of the event in Shibuya for the first time. Then foreign minister of Japan Yoshimasa Hayashi and Vietnamese deputy foreign minister Le Thi Thu Hang gave congratulatory speeches.
Pho festival to be held in Tokyo on Oct. 7, 8
The celebrations will continue with the Vietnam Pho Festival 2023 to be held on Oct. 7 and 8 at Yoyogi Park in Tokyo's Shibuya Ward, organized by the festival's executive committee and Vietnam's Tuoi Tre newspaper. The event is all about pho, the soul food of the Vietnamese people, and around 40 stores are scheduled to pop up at the venue. A contest will be held to decide the best original pho dish adapted to Japanese food culture.
VIP visits increase in both directions
Since a half-century ago, Tokyo and Hanoi have built mutual trust and now are strengthening their comprehensive cooperative relations. Recent years have seen this partnership strengthen, as high-ranking government officials' visits in both directions increase.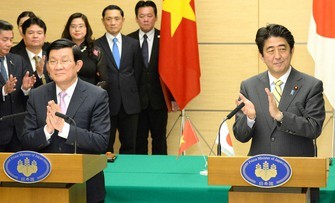 In this March 18, 2014, file photo taken in Tokyo, Prime Minister Shinzo Abe, right, and Vietnam's President Truong Tan Sang clap after their joint press conference. (Mainichi/Taro Fujii)
In 2006, Vietnamese Prime Minister Nguyen Tan Dung visited Japan, and with his counterpart Shinzo Abe agreed to establish a strategic partnership between the two countries. Furthermore, upon President Truong Tan Sang's trip to Japan in 2014, he and Prime Minister Abe issued a joint statement upgrading the collaboration to an extensive strategic partnership.
In 2020, Prime Minister Yoshihide Suga chose Vietnam for his first destination abroad after assuming office, and Prime Minister Fumio Kishida also visited Vietnam about six months after taking office.
Interaction among people
The Vietnamese population in Japan has increased dramatically over the past decade as diplomatic relations have deepened. Yoichiro Aoyagi, a member of the House of Representatives who is familiar with the two countries' ties, said, "There are over 1.8 million foreigners working in Japan, of which Vietnamese form the largest group, with the number approaching 500,000." According to Ministry of Justice statistics, the number of Vietnamese residing in Japan rose more than ninefold from 52,367 in December 2012 to 489,312 in December 2022. The number of foreign students has also increased more than fivefold over the past decade.
Tourism on both ends has also expanded. According to the tourism authority of Vietnam, the number of Japanese who visited Vietnam nearly doubled from 481,500 in 2011 to 951,962 in 2019, before the COVID pandemic. According to Japan National Tourism Organization, during the same period, the number of Vietnamese visiting Japan jumped over tenfold from 41,048 to 495,100.
School trip to Ho Chi Minh City resumes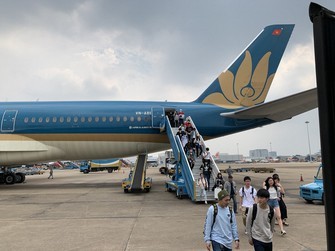 In this provided file photo taken in 2018, students of Tokyo Metropolitan Chihaya High School disembark from a plane in Ho Chi Minh City, Vietnam.
Transformation and diverse cultures have been characteristic throughout Vietnam's history -- from its dynasties to the Vietnam War, leading up the modern era of rapid economic growth and internationalization. From the perspective that Japanese youth have much to learn from its vibrant cities and people, an increasing number of high schools are heading for Vietnam on their school excursions.
According to Japan's school trip association, the number of high schools that chose Vietnam for their excursions averaged about 10 per year from 2015 to 2019. More than 1,600 students annually traveled to Hanoi in the north, Ho Chi Minh City in the south, and Da Nang in the central region.
Tokyo Metropolitan Chihaya High School, whose students have been making trips to the country since 2016, will resume its overseas trips to study business English in Ho Chi Minh City this October for the first time in four years. Tomohiro Wasada, a teacher at the school's business communication department, explains that the trip aims "to have students have a firsthand look at the ever-developing Ho Chi Minh City, and experience the local culture, costs of living and lifestyles, and nurture the ability to accept differences."
The school will use Vietnam Airlines to give the students a taste of Vietnam from the moment they board the plane, through encounters with flight attendants in traditional ao dai dresses and in-flight meals. The program includes a visit to a local university to experience studying English abroad and strolls through the city accompanied by the students to absorb the different culture.