50 yrs of Vietnam, Japan diplomacy (Pt. 1): Passing strong ties to next generation
October 6, 2023 (Mainichi Japan)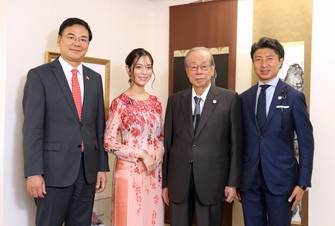 This image shows, from left to right, Vietnamese Ambassador to Japan Pham Quang Hieu, Vietnamese actor Fonchi, former Japanese Prime Minister Yasuo Fukuda and House of Representatives member Yoichiro Aoyagi. (Mainichi/Yoshinori Matsuda)
TOKYO -- In Paris, September 1973, representatives of Japan and Vietnam signed and exchanged memorandums to establish diplomatic ties. In the 50 years since, the they have strengthened their cooperation in various fields. On this occasion, the Mainichi Shimbun organized a panel discussion on the friendship between the two nations, joined by Vietnamese Ambassador to Japan Pham Quang Hieu, who assumed his post in May, former Japanese Prime Minister Yasuo Fukuda and Vietnamese actor Fonchi. It was facilitated by Yoichiro Aoyagi, a House of Representatives member and co-chairperson of the Vietnam Festival 2023 held in Japan between April and June. The dialogue has been edited for length and clarity.
Yoichiro Aoyagi: The Vietnam Festival 2023 was held after 50 years of and amidst wonderful relations between Japan and Vietnam.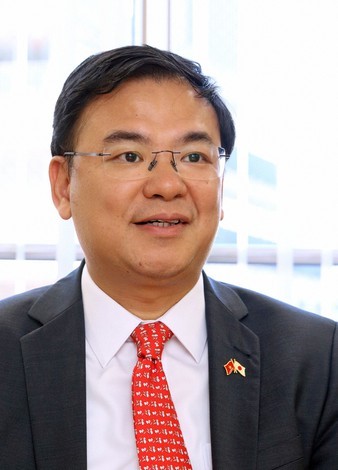 This image shows Vietnamese Ambassador to Japan Pham Quang Hieu. (Mainichi/Yoshinori Matsuda)
Pham Quang Hieu: I am pleased to assume office in this commemorative year. Immediately after assuming office, there were two memorable events: the Group of Seven Hiroshima Summit and the Vietnam Festival 2023. I'd like to point out that at the festival, I saw cultural exchange and felt a strong bond between our two peoples.
Fonchi: I have been the MC of the festival at the Tokyo venue since 2010, and every year I am delighted to see so many young people from both countries gathering. As a Vietnamese born and raised in Japan, I would like to contribute more to future exchange activities.
Aoyagi: How do each of you see the current relationship between the two countries?
This image shows former Japanese Prime Minister Yasuo Fukuda. (Mainichi/Yoshinori Matsuda)
Yasuo Fukuda: We have a relationship in which our mutual needs and supplies are well matched. Japan supplies Vietnam with industrial technology, business management know-how, and other things related to the economy. Vietnam supplies Japan with human resources. I believe this relationship will continue for some time, but beyond that, the challenge is for both sides to aim high in a friendly competition, and cooperate to pass on our close ties to the next generation.
Hieu: When I studied at the graduate school of Nagoya University 20 years ago, I felt the warmth of people toward the Vietnamese. As I have come to Japan again as the ambassador, I remember that warmth, and I sense that the Japanese people have become more passionate. The comings and goings of dignitaries have increased, and I believe that the relationship is being further strengthened under the key words of sincerity, trust, and humanity.
Aoyagi: An increasing number of Japanese companies are choosing Vietnam as a place to expand business, and major companies have taken the lead. For example, the Thang Long Industrial Park in Hanoi, developed in 1997 by Sumitomo Corp., now houses more than 100 tenants. In addition, Japanese language education for Vietnamese has taken root, and the training of not only technical intern trainees but also highly skilled professionals and IT personnel has progressed. Vietnam and Japan now are in a compatible relationship not only in economic terms but also in many other areas.
Given this current situation, how do each of you foresee the next half century of Japan-Vietnam relations?
Fukuda: Exchanges between the two countries can take place in a variety of areas. In terms of culture, including medical, academic and technological development, I believe that accepting each other's culture and utilizing it where necessary is the way to build a better society. As a result, we will come to better understand each other and assist each other with problems we face. This is the basis of peace.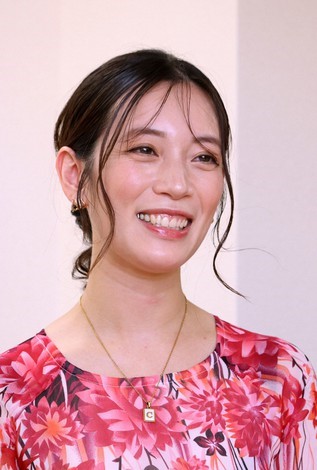 This image shows Vietnamese actor Fonchi. (Mainichi/Yoshinori Matsuda)
Hieu: In the economic field, we are already cooperating and complementing each other at a high level, allowing us to support each other. In addition, the younger generation is the future of both countries. Vietnamese studying in Japan to acquire knowledge and skills will not only contribute to the future of Japan, but also to the development of Vietnam.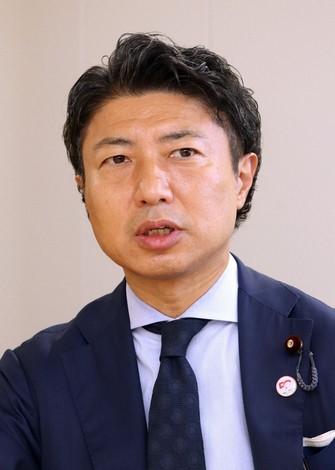 This image shows House of Representatives member Yoichiro Aoyagi. (Mainichi/Yoshinori Matsuda)
Fonchi: There are still impoverished areas in Vietnam. All Vietnamese are pro-Japanese, and in times of need, we think, "Japan will help us." When I was in school (in Japan), I was bullied for being a foreigner, but I took my being Vietnamese as a strong point and grew confident. When I visited poor areas, I thought that gaining more fame in Japan would benefit Vietnam. I would like to serve as a bridge between the young people of our two countries, and I myself would like to grow further.
Aoyagi: Relations between the two countries are deepening year by year. Japanese companies entered Vietnam in the 1990s, and since then, the rate of local procurement has gradually increased, as well as the direct employment of locals. This is especially true in the IT sector. Equality in the partnership is expected to increase. In order to achieve this, we must build a multi-layered and multi-faceted relationship, and the Vietnam Festival plays a role in this process.
(Japanese original by Hironobu Fujita)
Profiles
Pham Quang Hieu
Hieu assumed the position of ambassador to Japan in May 2023. He joined Vietnam's foreign ministry in 1998, and his area of expertise is international law and treaties. Upon moving to Japan in 2003, he earned a master's degree from Nagoya University's graduate school. He has worked for the Vietnam delegation to the United Nations.
Yasuo Fukuda
Fukuda was first elected to the House of Representatives in 1990, and became the 91st Prime Minister of Japan in 2007. He retired from politics in 2012 and is now the chairman of the Japan Asian Community Culture Cooperation Organization.
Fonchi
Fonchi, or Phuong Chi, is a Vietnamese actor born and raised in Japan. Formerly a member of the female J-pop group Idoling!!!, she has actively formed a bridge of friendship between Japan and Vietnam, and has been the MC of the Vietnam Festival in Tokyo since 2010. As one of her major career roles, she appeared in the TBS drama "MIU404."
Yoichiro Aoyagi
Aoyagi initiated the Vietnam Festival in 2008 and is now its co-chairperson. He was elected to the House of Representatives for the first time in 2012 and is in his 4th term. He is the representative of the Constitutional Democratic Party of Japan's Kanagawa prefectural federation and a director of the Human Resources Development & Employment Organization (HuReDee).