REMARKS BY 
H.E. AMBASSADOR NGUYEN QUOC CUONG 
AT THE RECEPTION IN CELEBRATION 
70TH ANNIVERSARY OF VIET NAM NATIONAL DAY
(Tokyo, 01/9/2015)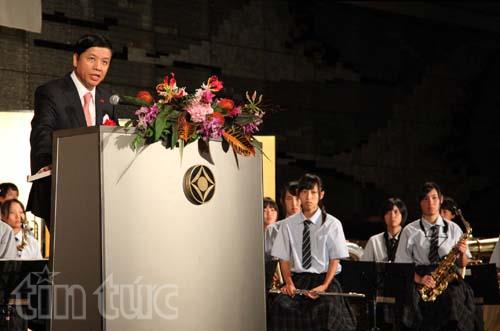 Ladies and Gentlemen,
It is my great pleasure and honor to warmly welcome all of you here today to celebrate the 70th anniversary of Vietnam's Independence Day. Your presence means a lot to us, and I would like to sincerely thank you for that. 
In particular, I would like to acklowledge the presence of H.E. Mr. Fukuda Yasuo, Former Prime Minister of Japan; H.E. Mrs. Kamikawa Yoko, Minister of Justice; H.E. Mr. Hayashi Yoshimasa, Minister of Agriculture, Forestry and Fisheries; H.E. Mr. Nikai Toshihiro, Chairman of the General Council of LDP and Chairman of the Viet Nam - Japan Parliamentary Friendship Alliance and more than 40 members of the National Diet of Japan, many other distinguished guests and Ambassadors, members of the diplomatic corps in Tokyo. Due to limited time, I am sorry that I can't name every of you here.
Ladies and Gentlemen, 
Exactly 70 years ago, on September 2nd, 1945, President Ho Chi Minh, the great leader of Viet Nam, read out the immortal Declaration of Independence, giving birth to a new Viet Nam - the Democratic Republic of Viet Nam, which is now the Socialist Republic of Viet Nam. And I want to share with you those historical moments which are still very touching, very sacred for every Vietnamese. Please have a look on the big screen.
Thank you.
That historic day has opened up a new page in the history of Viet Nam. As you have seen on the screen, the happy and joyful smiles were on the face of all the Vietnamese people, from elders to children, males and females alike, who for the first time in their life enjoyed the feeling of being true masters of their own destiny and country. And they all remind me of the great values of independence and freedom. Since that day, the Vietnamese people have joined together to continuously fight against foreign invaders and struggle for national independence and freedom, and are proactively striving for national construction and international integration, contributing to peace, friendship and cooperation in the region and the world over. 
While being proud of the glorious history, the Vietnamese people stand ready to put the past behind and look forward to a brighter and prosperous future. Visiting Viet Nam today, you will witness tremendous changes for the better throughout the country, from the North to the South, from the plain to mountainous areas. From a heavily devastated colony, Viet Nam has now been known as a dynamic economy and a friendly destination in Southeast Asia, a country of optimistic and hard-working people. In addition, Viet Nam is also recognized as a role model of renovation, and we are firmly committed to further comprehensive  reforms. 
Ladies and Gentlemen, 
On this occasion, I would like to extend my sincerest gratitude to all of you and your people for the valuable support and cooperation that you have extended to Viet Nam. And my special thanks go to the Japanese Government and people for their most active cooperation and support over the years. 
It is no exageration to say that Viet Nam – Japan relationship is better than ever before, in all areas, from politics – security and defense to economics - trade - investment, healthcare, culture, education, science and technology, both bilaterally and multilaterally. In particular, the cooperation between two countries is dynamic not only at cental governmental level, or between our two legislative bodies and socio-economic institutions, but also expanded to provincial level. In 2009, Viet Nam and Japan officially recognized each other as strategic partners and later agreed to lift the bilateral relationship to "extensive strategic partnership" in 2014. This development shows the high level of political trust between the two countries. Japan has highly valued the development policy as well as the increasingly significant position of Viet Nam while in return, Viet Nam has applauded the important role and active contribution of Japan to peace, stability and development regionally and internationally. 
Viet Nam and Japan treasure a time-honored history of exchanges and share a great deal of cultural similarities; each side has its own advantages to complement each other effectively in socio-economic endeavors. I strongly believe that given the positive momentum of our relationship, there are even greater potentialities  for brighter future cooperation. 
In a joyful atmosphere of celebrating the 70th anniversary of Viet Nam National Day, I wish the friendship and cooperation between Viet Nam and Japan ever grown. May I wish all of you good health and happiness.
Thank you very much. 
Doomo(どうも) Arigato(ありがとう) gozaimashita(ございました)!
Xin chân thành cảm ơn tất cả các quý vị.